Yesterday, at 5.30pm there was a familiar sound. A sound that always makes the hairs on the back of my neck prickle. Makes my eyes water and brings a lump to my throat. It brings back memories of being with my Dad. It brings back memories of taking Scouts to London for Trooping the Colour. It brings back memories of Bournemouth Air Festival. It brings back memories of catching glimpses of them on route to somewhere in Britain to give others joy.
It was the sound of Hawker Jets. They were performing in Lymington. To help commemorate D-Day70. I stopped what I was doing immediately. I went out into the front garden and stood and watched. At times it seemed like one jet was flying down my street!
They were so close, I felt I could reach out and touch them. They are so uniquely British. I didn't even grab my camera on the way out the door (stupid me), but I cannot wait to see them again at the Bournemouth Air Festival when I will have my camera!
I am in awe at the pilots skill, and most of the moves can be found here. My particular favourite is the corkscrew – amazing!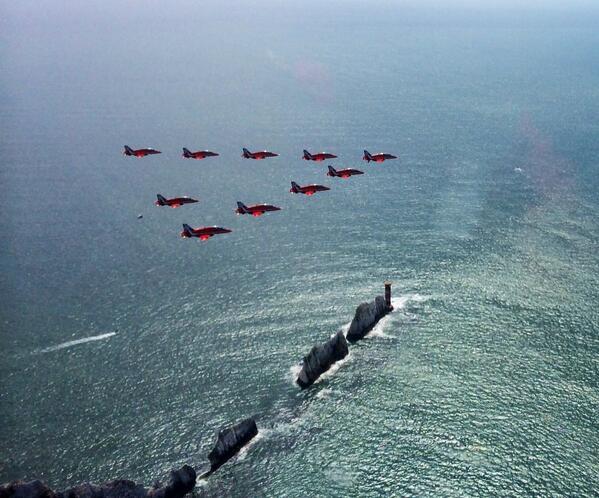 Picture courtesy of @RAFRed10